How to clean bathroom taps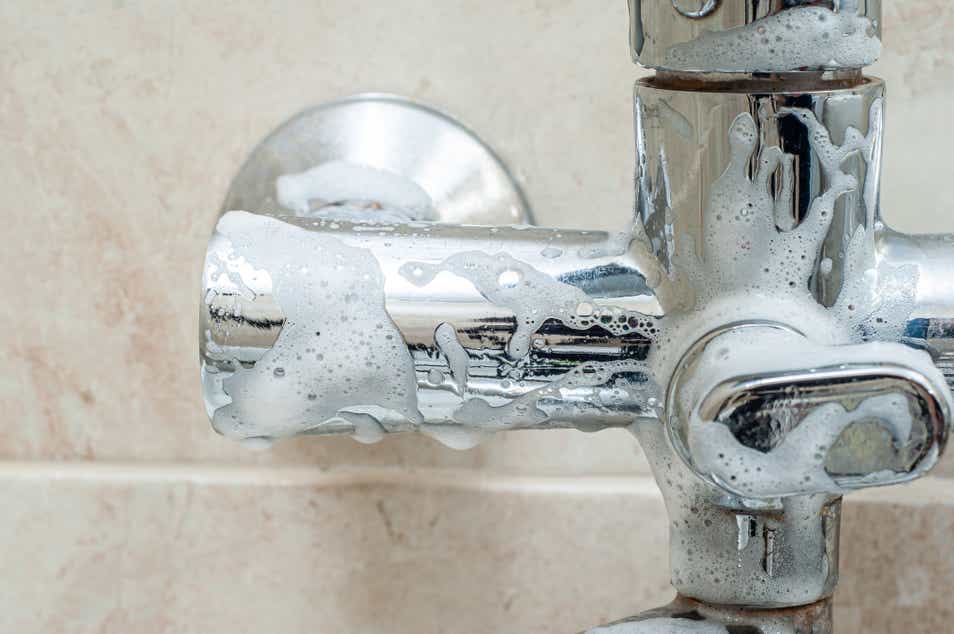 Have you ever noticed that your taps are one of the most used bathroom surfaces? Not only do your taps receive the most contact with your hands, but they also get splashed with soap and toothpaste. The resulting build-up of dirt and grime is why cleaning your bathroom taps thoroughly is so important to your bathroom cleaning routine. Common problems when cleaning taps include:
Soap and dirt build up on the tap handle. Turning your taps on with dirty hands will mean some of that dirt will remain.
Limescale build-up. Though it isn't harmful, limescale build-up is unsightly.
Grime build-up. This can gather around the joint where the tap attaches to the sink when dirt from the tap travels down from the handle.
Before you get started, you'll need:
An old (but firm) toothbrush
A scouring sponge
A microfibre cloth
Armed with your Harpic Bathroom Cleaner Spray, simply follow the steps below:
Remove any toothbrushes, pots and soaps from around the tap area so you can access it easily.
Spray the entire tap area with the Harpic Bathroom Cleaner Spray and leave for one minute.
Using an old toothbrush brush off the grime at the base of the taps. You can also use the toothbrush to get to the more intricate components of your tap handles.
Next, wipe with a cloth to remove any remaining dirt on the handle and the rest of the tap. You can also use the cloth to clean away the grime you removed earlier.
Rinse thoroughly with water or wipe with a microfibre cloth to get a perfectly clean and shiny surface.
Top Tip: Don't forget to rinse and repeat when using your scouring sponge to ensure you don't leave any traces of dirt behind.
Please note: Do not leave on metallic surfaces for more than one minute to avoid potential discolouring. Not suitable for acid sensitive surfaces like marble, enamel showers, aluminum, natural stones or zinc-plated metals, hot or damaged surfaces, textiles, carpets etc. Always test on a hidden area to ensure compatibility with surfaces. Do not mix with any other household cleaning products including any other variant of Harpic bathroom cleaner."
We're here to guide you
Harpic can help you find solutions to all your toilet problems and questions...