Over 100 years of keeping it clean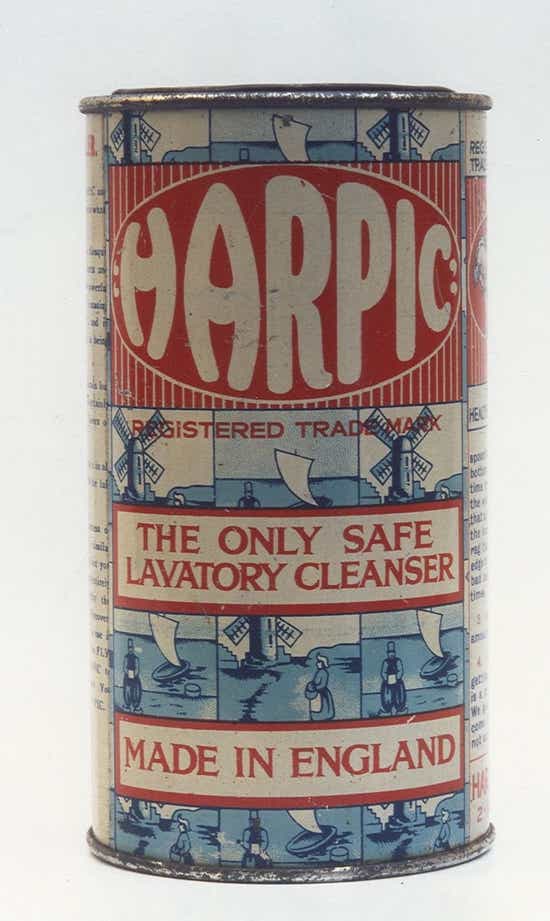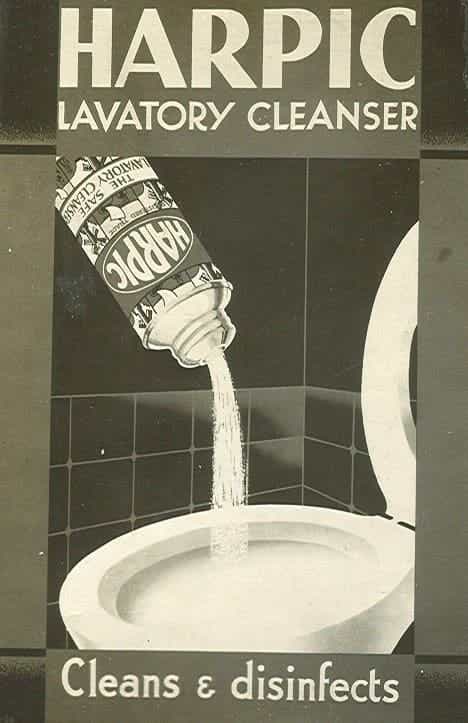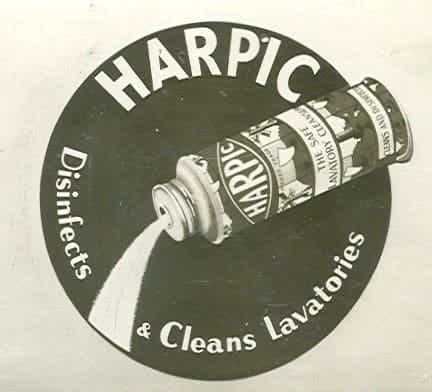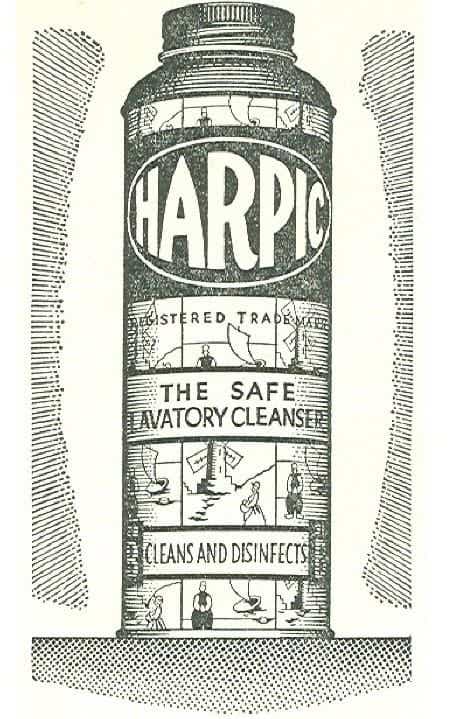 At Harpic, we believe that access to safe, clean sanitation should be a fundamental human right. That's why we're on a mission to elevate toilet & bathroom hygiene across the world to the highest standards possible. Everyone everywhere should have access to a toilet and bathroom that's hygienically clean and germ free. Don't you agree?
This goal and commitment isn't new. It speaks to who we are as a brand and where we've come from. After all, for over 100 years, we have been helping our customers across the world keep their toilets and bathrooms clean.
Want to know a little more about our story? Did you know that our brand was invented as WW1 drew to a close? It all happened when a young British sanitary and heating engineer named Harry Pickup discovered that one of the waste products of London's munitions factories – nitre cake – could, when mixed with water, make a powerful toilet cleaner. It could even remove limescale – a discovery that was completely unheard of and represented a significant product breakthrough.
Passionate about sanitation and clean toilets, Harry kept innovating and Harpic – as our brand became known; named after the first two syllables of Harry Pickup's first name and surname – quickly became sought after all over the world. Harry's original formula was so good – and in step with society's needs - that it remained exactly the same for the next 40 years.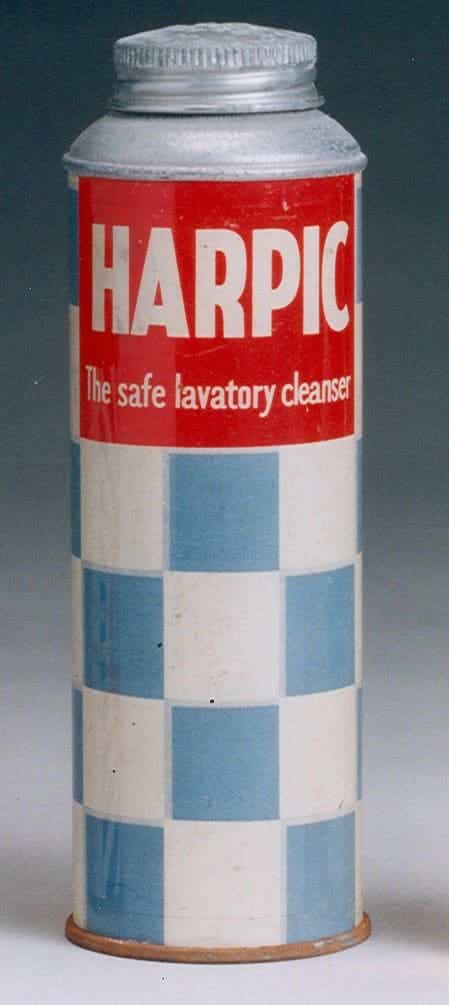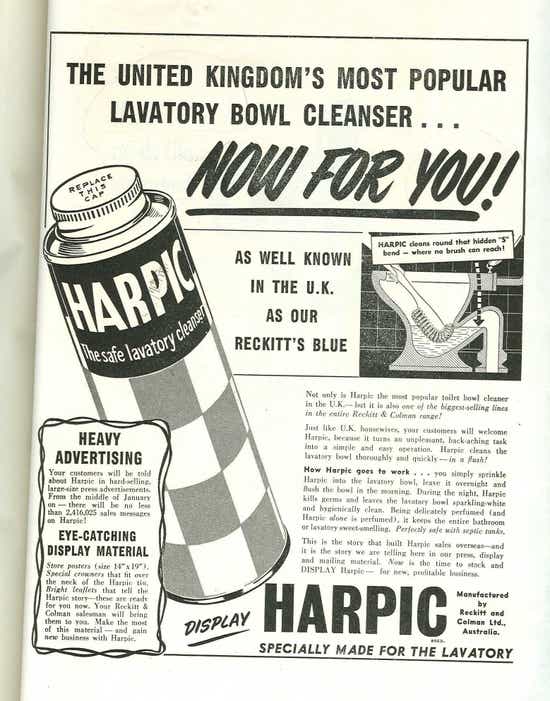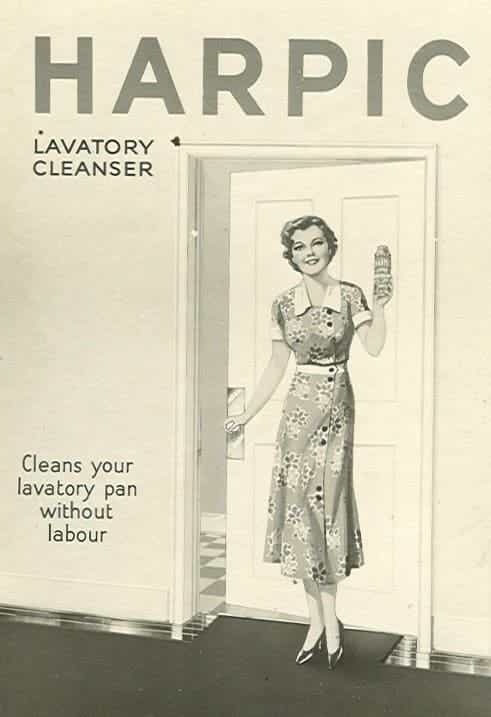 Harpic toilet roll launched a promotional tool alongside Harry's famous toilet cleaner and both products started selling in incredible volumes. This caught the attention of another innovative family firm - Reckitt and Sons Limited; the origins of the 'Reckitt' as you know us today.
Reckitt and Sons Ltd. acquired Harpic in 1932 and Harry remained closely involved in the business, continuing to innovate products including drain cleaners, sealants for cast iron heating systems and even 'lock and lift' manhole covers.
As the years rolled on, Harpic became a global success. Success brought investment but also a need to reach more people and so Harpic – always the innovator – became one of the first Reckitt Benckiser to utilise mass media, including television.
The brand also started to represent itself in new and evolving ways, in steps always with the needs of its users at the time. For example, in the 1930s, Harpic print advertising positioned itself as key to a spotless home and highlighted that it was the first product to reach where a brush couldn't. In 1952, when Harpic arrived on television, the brand advertised itself and became even more widely known for its catchy jingle, "Harpic, Harpic; the sign of a clean home."
A century on, Harpic continues to set new standards in hygiene, yet we're still committed to the same goals that inspired Harry. New fragrances have been added and new products have been launched but Harry's legacy and passion for innovation remains core to the brand. Harpic remains committed to people and planet, with sustainability central to our purpose and one of the many reasons why we are clean that makes a difference.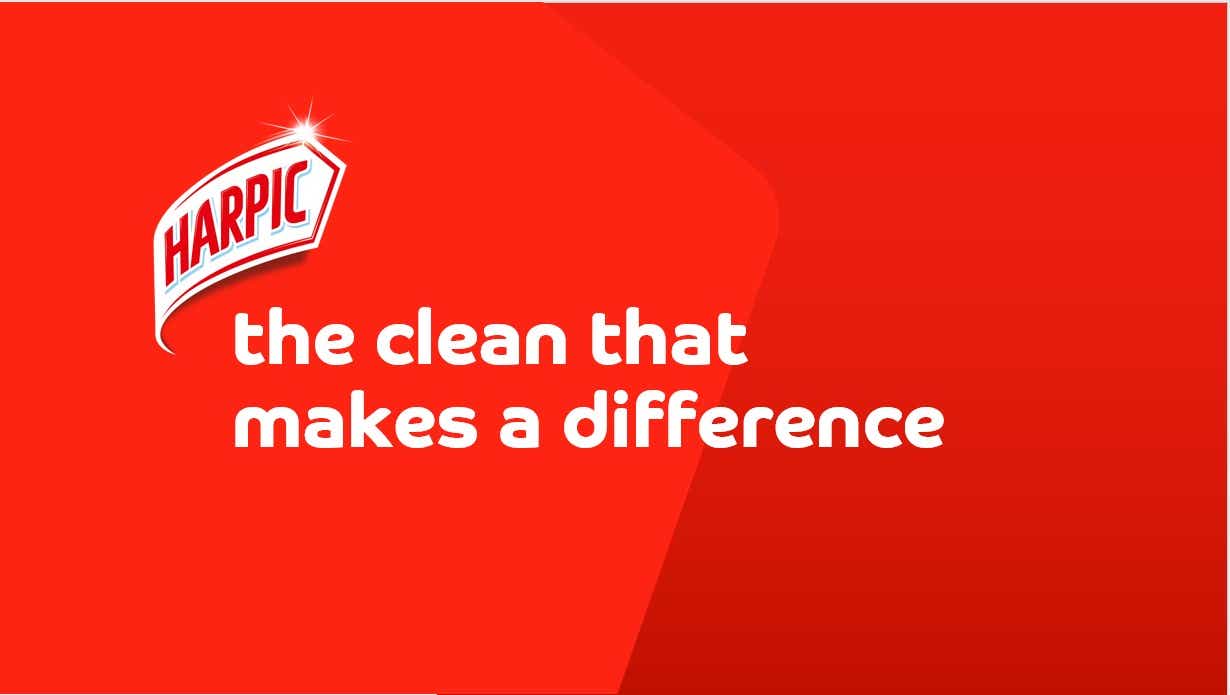 We're here to guide you
Harpic can help you find solutions to all your toilet problems and questions…
Toilets and bathrooms play an important part in the sanitation of your household, keeping you and your family healthy.

Since the company started over 100 years ago, we have been helping our customers across the world clean their toilets and bathrooms.
Show 1 of 3