How to clean your toilet rim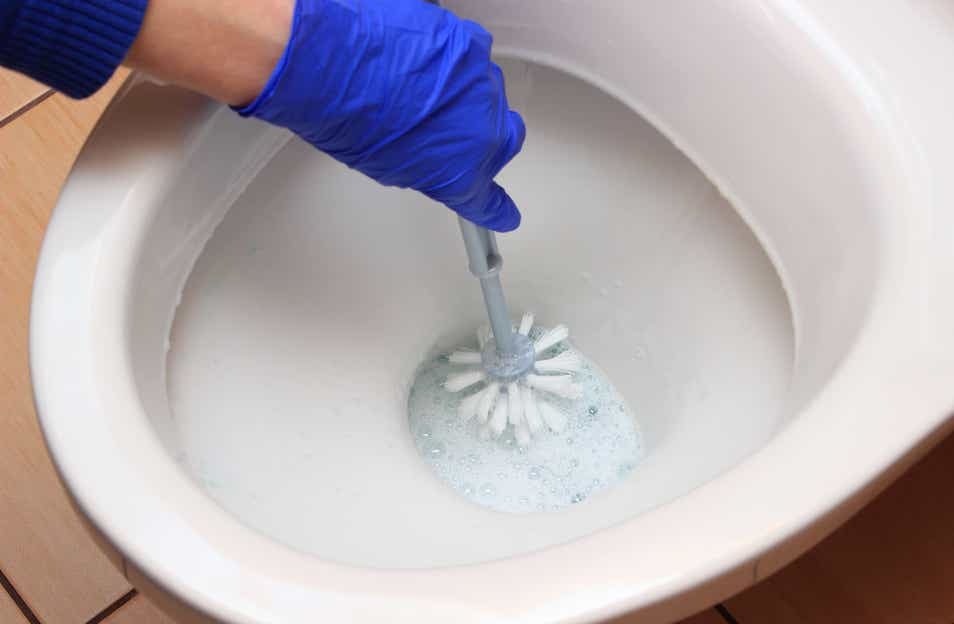 Did you know that all sorts of stains like limescale and grime can linger under the toilet rim, and end up blocking your toilet jets? The rim of your toilet is a vital part as it connects the tank to the bowl. If the water can't flow out of it properly, it can hinder the full removal of your water and waste at the bottom of the toilet. Incorporating a thorough clean with Harpic's specially designed toilet products is the best way to remove limescale, keep your toilet hygienic and clean but also functioning effectively.
Here's what you'll need to clean your toilet rim:
A toilet brush
Rubber gloves
An old toothbrush
A hand-held mirror
Before you attempt to clean the rim holes of your toilet, open any windows or doors to ensure the room is well ventilated. Then, follow the steps below:
Press the sides of the cap on your Harpic Germ and Stain Blaster and twist counterclockwise to open.
Position the nozzle directly under the rim of the toilet bowl and pour all around the bowl, while squeezing
the bottle to dispense the liquid evenly.
Allow the solution to spread and leave for 20 minutes.
Scrub the stain with the toilet brush and flush.
Repeat steps 2 and 3 and scrub with an old toothbrush to clean toilet rim jets and give them a good scrub. You may need a handheld mirror to see the jets clearly.
And once you've cleaned it thoroughly, keep your toilet rim continuously clean by going straight to the source with a Harpic Flushmatic. This cistern toilet cleaning block helps prevent scaling and stain build-up while maintaining maximum hygiene, flush after flush. Just follow the steps below:
Remove block from blister but do not remove the coating
Drop Harpic Flushmatic block into the tank, away from the water inlet
Wait 10 minutes before the first flush to activate
Replace the Harpic Flushmatic with a new block when the blue colour disappears from your water
We're here to guide you
Harpic can help you find solutions to all your toilet problems and questions…